Working with Emails
The true test of an e-mail app's value is what it lets you do with the e-mails you receive. Postbox is on the case, providing all the tools you need to manage the busiest inbox.
Quick Reply
Though you can always reply to an e-mail, Postbox makes it even easier to dash off a fast answer using Quick Reply.

Here's how it works:
Select any e-mail in the message list.
Scroll down to the bottom of the e-mail to reveal the Quick Reply window. (You can also get to the Quick Reply field by typing "shift-r.")
Click in the Quick Reply window—it expands to reveal an already-formatted reply with the cursor at the top of the e-mail, waiting for you to type your answer.
When you're replying in a thread with multiple people, Postbox defaults to replying to the person whose e-mail you were just viewing, and also offers you the option of replying to everyone by clicking "Reply to all" just above the message. Click it again to toggle back to a single correspondent.
If you'd like to write a full-on reply—with text formatting and the ability to add attachments—click the pop-out button in the upper-right corner of the Quick Reply window, shown with the red magnifying glass in the screenshot above. This opens a Compose window. We'll show you what you can do in the Compose window a little later.
When you're done, click the Send button to fire off your response.
Marking E-Mails
Since Postbox is built on the idea that your e-mail contains all sorts of things you want to keep track of, we provide ways in which you can mark messages to help you quickly get to them later.
Right-click on a message to display a pop-up menu. It contains a lot of things you can do to the e-mail, but for now, select the Mark menu.
Here's what you can do from the Mark menu. You can select:
Unread—to mark the current message as unread.
Thread As Read—to mark the thread the selected message belongs to as unread.
As Pending—to mark the message as something you expect a reply to or some further action by someone else.
As Reminder—to turn a message that contains some action you need to take as a to-do.
As Junk—to mark the message as junk and direct it into Postbox's junk-mail filter.
Filing E-Mails
You can file an email into any of it e-mail account's folders by dragging it there as you would with any app. Postbox offers a faster way, though, that you'll quickly fall in love with: Quick Move. To use Quick Move with an e-mail you've selected or are reading:
Type the letter "v" and the Quick Move window opens.
Start typing the name of the folder into which you want to move the message. Quick Move uses auto-complete and will quickly find the one you want.
Click OK to move the message to the folder.
One of the best things about Quick Move is that it even allows you to move a message into a folder belonging to another account, a handy feature when people don't always contact you at the desired e-mail address.
Use as E-Mails as Reminders
Important messages can be marked as Reminders. A Reminder is marked with a red flag, and be be "pinned" to the top of your message list. New messages arrive below pinned Reminders, so that important messages always stay in view.
Not only can you mark existing messages as a Reminder, but you can create new Reminders too. To create a new Reminder, type Command-Shift-N (macOS) / Alt-Shift-N (Windows), and enter a subject and note if desired. This places a new Reminder within the currently selected folder.
Postbox also provides a number of dedicated Reminder views, in addition to filter actions that can mark messages as a reminder.
Quick Post to a Service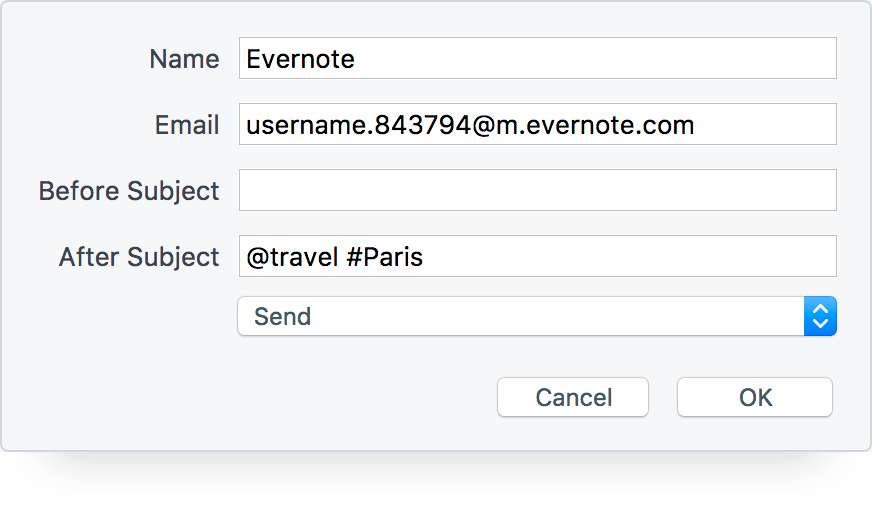 Quick Post to more easily forward email content to hundreds of applications and services, like Evernote, Slack, Todoist and many more! Any service that can accept an email, or integration through Zapier or IFTTT.
Archiving and Deleting
You can archive or delete a message using its right-click pop-up menu, by clicking the Archive or Delete button in the Postbox tool bar, or by using a key command.